These are a series of animations based on the long running British science fiction TV series Doctor Who. The entirety of the series were produced in 2009.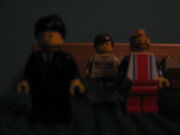 Series 1
All dates are for when they were originally photographed, not when I originally edited them.
Series 2
There was a second series, with a new Doctor but I reset my camera's settings to default and that deleted all of my photo's for this series and the regeneration story.
The alien from the fifth episode returned during this series.
The Doctor from this series later featured in New LEGO Doctor Who Fan Fiction Tie-in.
Notes